About Omega Recycling Solutions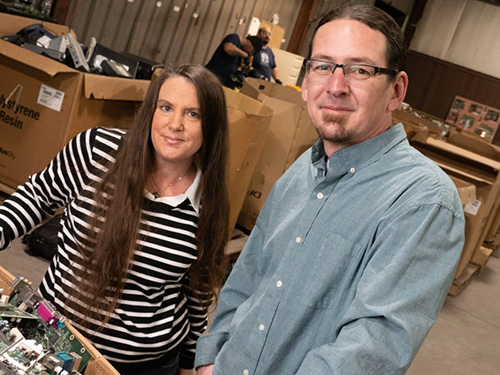 Omega Recycling Solutions is a woman owned full-service electronics recycler, specializing in IT asset management and electronic waste disposal. Established in 2010, we are a family owned business that began from strong personal convictions toward environmental stewardship and sustainability. We work with businesses of all types, educational systems, nonprofit and government entities. Headquartered in the Southeast US, Omega provides full-service collection in Tennessee, Arkansas, Mississippi, Kentucky, Missouri, Alabama, and Georgia; helping to provide a secure and environmentally sustainable option for disposing of electronic waste. If your company is located in another region, we also have national logistics capabilities. Whether it's electronics recycling, IT asset recovery, or lifecycle management we are committed to maximizing value while providing responsible recycling solutions for our clients.
Selecting an Electronics Recycler
Decision making when selecting an electronics recycler to handle your company's IT assets is a critically important task. Choosing an unqualified service provider can mean exposing your company to data mismanagement, and putting your company at unnecessary risk. Violation of laws regarding company data breaches carry tremendous financial and legal consequences, and numerous companies make this mistake every year. Don't be the one who chooses the wrong company to handle your equipment. Omega Electronic Recycling is a trusted electronics recycling provider.
Company Data
Registered Company Name: Sunrise Recycling Services, LLC
DBA: Omega Recycling Solutions TIN: 46-3657294
DUNS: 03-807-2102
CAGE Code: 8GCF2
NAICS Codes: 562112 – Hazardous Waste Collection 423930 – Recyclable Material Merchant Wholesalers
PSC Codes: P100 – Salvage – Preparation and Disposal of Excess/Surplus Property
Certifications: R2:2013, ISO 45001:2018, ISO14001:2015
Memberships: Nashville Chamber of Commerce, Memphis Chamber of Commerce, Jackson Chamber, TERRA
Status: Woman Owned Small Business
HIPPA Compliant Equipment recycling
EPHI Compliant Equipment recycling
Marcus Chandler, COO/Partner :
marcus@omegaelectronicsrecycling.com
731-298-4683